Prussian Blue
Prussian blue is a ferriferrocyanide pigment, also know as paris blue, steel blue, iron blue, milori blue, chinese blue, berlin blue, ferric ferrocyanide and ferric blue, color index is pigment blue 27. It is a deep, pure blue shade with high tinting strength, prussian blue has a reddish tint while toning blue is dull with a strong red tone.
Prussian Blue Products:
Prussian blue is resistant to solvents and mineral acids, it is only destructed when being boiled with concentric H2SO4 and decomposed under the action of even weak alkalis by forming iron hydroxide and potassium ferrocyanide. For this reason, prussian blue must not be used in emulsion and limewater colors, for painting over plastering or concrete as well as in mixture with pigments, fillers and film formers having alkaline reaction. When being used in mixture with white zinc, the pigment gets greenish tint. When being treated with water solutions of oxalic and tartaric acids as well as solutions of ferrocyanides, colloid solutions known as soluble ferric ferrocyanide are formed. When being mixed with lead and zinc chrome pigments, the iron blue pigment forms a rich gamma of lead and zinc greens colored from bright green to olive green depending on the quality and quantity of taken components.
Prussian blue is featured by weather and light resistance, does not worsen the corrosion resistance of the coatings, but is not resistant to heating: the color varies at temperatures of 160-240°C (depending on film former). Prussian blue is can be used in inks such as offset inks, solvent based inks, paints and coatings, plastics, carbon paper etc.. The superfine grade also called micronized grade prussian blue is mainly used for pesticide, agriculture and fertilizer.
Characteristics:
1. Prussian blue is non alkali-resistant and therefore unsuitable for cement-and chalk based products. The blue discolours into brown in alkaline products.
2. Prussian blue is only temperature-resistant to 140°C. However, Milori blue has good UV-and acid resistance and has good colouring power, which is why it is frequently used in inks and paints (oil and water).
3. Prussian blue can be mixed with all other pigments, e.g. when it is mixed with chromium yellow the result is a chromium green pigment.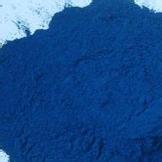 Epsilon can offer below packages and palletized, shrink wrapped, which are suitable for long distance tranportation.
25kg kraft paper bag, 10mts per 20'fcl;
10kg kraft paper bag, 7mts per 20'fcl, which is for superfine grade.
Prussian blue application:
Prussian Blue for Solvent Based Inks, Prussian Blue for Offset Inks, Prussian Blue for Offset Inks and Paints, Prussian Blue for Paints, Prussian Blue for Paints and Plastics, Prussian Blue for Pesticide, Agriculture and Fertilizer.